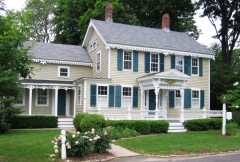 There are a couple of places you need to check out to get more information about the history of your house. Perhaps you are wanting to know who lived in the property when it was first built, and since; maybe you need to check the deeds of your house or you might want to know if there has ever been any hauntings in your home!
The government are pretty useful when it comes to keeping records, although remember that not all homes have information which dates back years and years - especially if yours is older than a century or so. Census information will tell you about people - who they were, if they got married, how many children they had etc. The land registry is good for getting specific structural information and also for discovering who owned the property before you. You can also check the local records (many are kept in libraries and council offices) to get more details.
Start with the Census as it will certainly reveal some facts upon which you can extend your search. You may have to pay for some census information from certain years but if you're desperate to get your house history its well worth it!