If you've lost the manual for your Kenmore 158 sewing machine, don't panic, as there are plenty of people online ready to help. 
Try homeappliance.manualsonline.com; even if they don't have your particular model's manual, they can still help you out.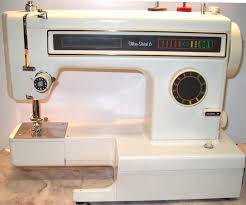 If you've no luck there, give
sewconsult.com
a try, as they offer free downloadable Kenmore sewing machine manuals, as does
kenmoresewingmanuals.com
and the similar site
kenmoremanuals.com
.
More general forums can also help, such as sewusa.com or manualware.com. Such communities can also provide advice on repairs, spare parts or getting started, just join up and post a question.
Kenmore is a brand owned by Sears, so there customer service center might be able to help. Go to searspartsdirect.com to check whether they still have the manual for the Kenmore 158 in stock.
If you need to know more about operating a sewing machine, YouTube is a good place to look for tutorials. Here's one for the Kenmore 158: