Melinda Moore
, Design geek, married to ex-furniture designer/maker, answered
As Kathryn said in her answer, the retro mid-century modern look is really big at the moment, and looks great in a modern setting. This gives you a wide range of buying options, too - from purchasing a modern "take" on a retro piece, a reproduction, or the real thing, from a vintage store or via eBay.
For example, the table below is an original vintage piece, but - in a contemporary setting - it looks really modern.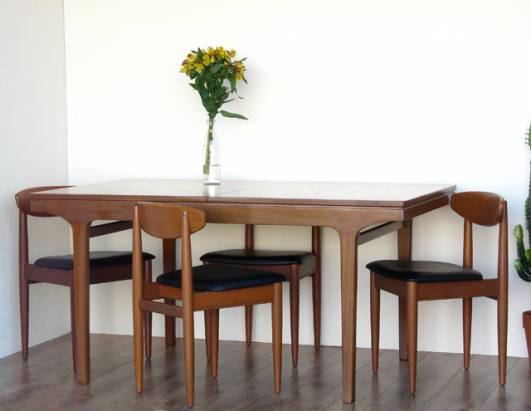 (Source:
http://www.scaramangashop.co.uk/at-home/furniture/vintage-wooden-tables/retro-dining-table-by-nathan/prod_3767.html)
Reproductions or re-releases of classic design pieces are another good option for achieving a convincing version of retro style, but using brand new furniture.
The picture below shows a dining room that looks really funky, and I love the way it combines modernist chairs with the Ercol bench and table, which are re-released classic designs from the company's back catalogue.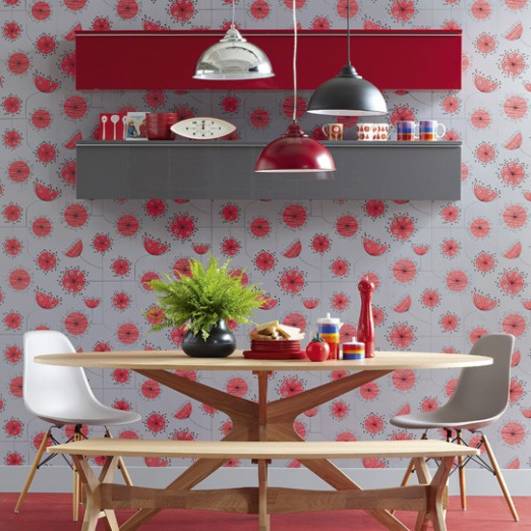 (Source:
http://www.housetohome.co.uk/room-idea/picture/dining-rooms-best-of-2011/8)
You could even commission your own, totally-individual, table from a furniture-maker, which can be a lot cheaper than you might think, and would probably last forever. It would also reflect your own taste while allowing you complete control over the materials used, and the size and shape.
The detailing on this bespoke table (below) is really lovely, and distinctive - and the solid wood is so much nicer than veneered tables. (I also find solid wood table-tops much more user-friendly than the often-attractive ceramic, glass or metal versions, as those can feel really cold and hard, and make guests nervous about damaging them.)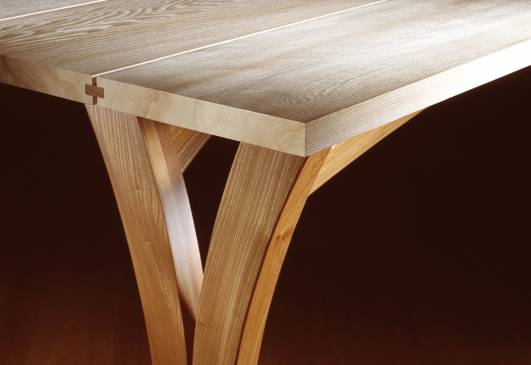 (Source:
http://www.simonthomaspirie.co.uk/blog/?cat=36)
My preference would either be to commission a table, or to buy a vintage one, as those original tables have already stood the test of time, and tend to be better quality, too - in terms of their materials and construction.
Alternatively, you could opt for another very hip look, which is to combine old with new in terms of your dining table and chairs - so you could combine modern chairs with an old table, or vice versa (which would be my preference).
I absolutely love the dining table and chairs below, which show the best of Scandinavian design in the modern table combined with the wonderful Hans Wegner Wishbone chairs, which are icons of 20th Century furniture design.
(Source: Http://onesixsixone.blogspot.co.uk/2012/09/hans-wegners-ch24-wishbone-chair.html)
I guess one of the best things to do, though - before you buy any kind of table - is to think carefully about how you want to use it. For example, round tables are great for making meal times more sociable, but can be a pain if you also want to use them for working, painting or sewing at - as things then keep falling off the rounded edges.
You can also get highly-flexible tables from some modern manufacturers, such as the Italian furniture design company, Calligaris, which allow you to choose the type of table-top (from various woods and metals to ceramic), and then to combine the tops with a set of legs of your choice.
Calligaris' tables also come in multiple extending versions, and even include the table below, which converts from a dining to a coffee table - perfect if you're short of space!
(Source:
http://www.calligarisshopmanhattan.com/pid/00000815/Calligaris-Magic-J-Folding-Coffee-Dining-Table)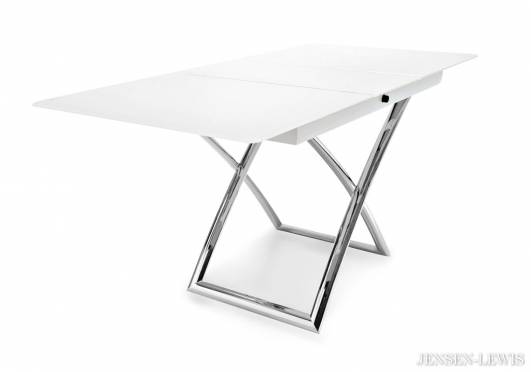 (Source:
http://www.calligarisshopmanhattan.com/pid/00000815/Calligaris-Magic-J-Folding-Coffee-Dining-Table)