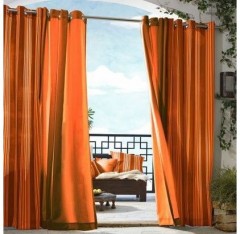 Having looked at the range of couches available at Macy's I'm assuming the one you have at home is similar to the Natuzzi couch listed here: Macy's Couch
Based on that, I would stay away from light washed-out colors. Orange and leather (not to mention the Italian design ethos) mean that your sofa is most likely bold and modern with crisp lines. If that's the case, you might want to consider a layered panel drape with an opaque, textured white panel behind two translucent gold/rust panels. Though this would maintain your existing color palette, it would also bridge the gap between the orange of the sofa and the gold on the walls.
The panel system is great for rooms that need a bold window/door statement to compliment a prominent piece of furniture. The crisp lines of these curtains will mirror the lines on your couch and their modern feel will work well with your room scheme as a whole.
Hope this helps!